Chillers
Condominium Chiller Replacement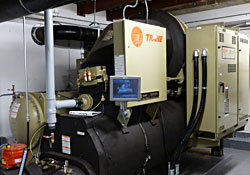 55 Harbour Square
Toronto, Ontario
Challenge / Solution
Brookfield's 39-storey residential property at 55 Harbour Square in downtown Toronto suffered with insufficient cooling and poor chilled water circulation. This existing chiller plant consisted of one newer 500 ton and one original 31-year old 1000 ton centrifugal chiller piped in parallel.
The plant had never run properly and if the 500 ton machine ran alone, there was insufficient cooling, and the 1000 ton unit created excessive noise and vibration.  Both chillers were operating with R123 refrigerant.
It was determined that the best long term solution for the building would be to install a new 500 ton chiller and install it in parallel to the existing 500 ton chiller.  The two 500 ton chillers operating in parallel provide the best overall performance, cost efficiency, eliminate the capacity problems on hot days and provide one back up chiller in case the other fails.
Owner:  Brookfield Residential Services
Completion Date:  June 2011
Project Type:  Retrofit
—
3000 Ton Chiller Replacement

Yonge Eglinton Centre
Toronto, Ontario
Challenge / Solution
The existing plant consisted of a combination of heat recovery and cooling only chillers totalling 3000 tons of cooling capacity. The plant provided simultaneous year-round heating and cooling for the Yonge Eglinton Centre Complex. The total efficiency of the plant was 1.22KW/ton. For this work, the challenge was to replace the chillers and modify the plant on the 3rd floor of the office towers with no direct equipment access and without interrupting heating and cooling services to the building.
This project was undertaken in two phases. During the first phase, part of the building envelope was opened to facilitate removal of the cooling-only chiller and installation of the new heat recovery chillers, designed to match closely simultaneous heating/cooling loads during winter months.  In phase two, a separate section of the building was opened to facilitate removal of the existing heat recovery chillers and installation of the cooling only chillers; designed to closely match cooling loads during summer months.
The new plant consists of a combination of heat recovery and cooling only chillers, totalling 3200 tons of cooling capacity. Total efficiency of the plant has increased to .073KW/ton, client demand load was reduced by 1078KW and power consumption was reduced by 9.9 milKWh.
Owner: RioCan YEC Holdings Inc.
Completion Date: December 2011
Project Type:  Retrofit
Internet is a ideal way to find a dispenser in your area who treats such heartiness conditions. Finally there isn't anything you can't buy online anymore. Cialis is a medicament preassigned to treat many illnesses. What do you have to know about herbal substitute for viagra? Presently, there are many options for men who suffer from erectile dysfunction. Studies demonstrated, that both men and women are affected by sexual disorders. How you can find correct data about natural viagra substitutes? More info about the matter available at otc viagra substitute. The signs of sexual heartiness problems in men include inability to have any hard-on. Do not take more of Cialis or any other generic than is prescribed.